5 free time tracking apps you can start using in less than 5 minutes
It's great if a time tracking app has many advanced features, but what if you just want to track your time effectively without having to learn the insides of yet another app?
We bet you are tired of apps that ask for too much of your time to just set up and start using them. Time tracking apps should be the opposite of time-consuming, right?
To help you choose the best free time tracking software, we've made a selection of simple, effective, and user-friendly apps. Apps with a complicated UI and lengthy signup forms to fill in didn't make this list.
We tried all these free time clock apps ourselves and managed to set up and start using each of them in less than five minutes (yes, we used a timer for it!). We did leave several well-known time tracking tools out because their UI seemed counterintuitive to us or their signup process was too much of a hassle.
We won't waste your time with long introductions, dig in.
1. DeskTime
DeskTime Lite is the free version of DeskTime, providing one individual with time tracking's principal features. DeskTime Lite is probably the simplest free time tracking app out there because once you have it on your computer, you don't need to do anything else. DeskTime will automatically register the time when you arrive at your computer, when you take a break, and when you stop working.
It only takes a few minutes to set up DeskTime and download its desktop app. By the way, many time clock apps run from your browser, which may at first seem more convenient than downloading a desktop app. However, a desktop app has the benefit of working offline so you are not dependent on the internet connection and an always-open browser. Moreover, only a desktop app will be able to track time spent in offline applications like Microsoft Word or technical software.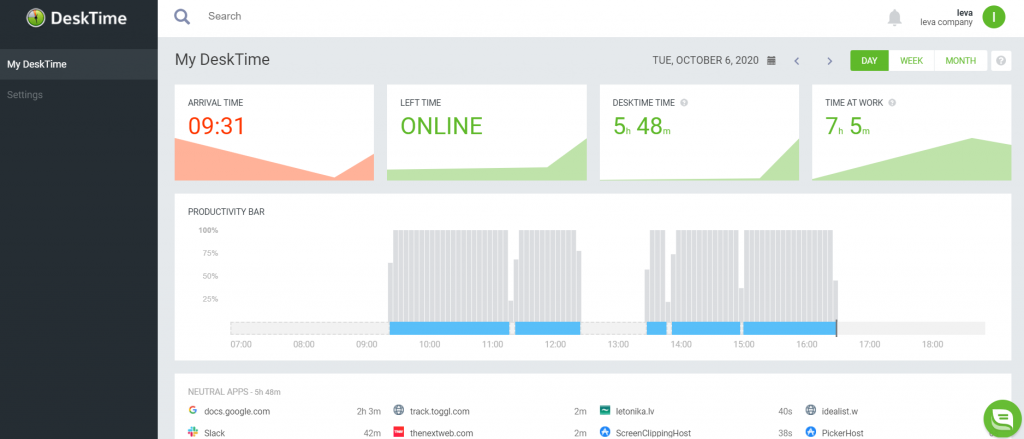 While other DeskTime plans include the ability to monitor specific websites and URLs, the Lite plan tracks the time you spend on programs and applications. When you are doing work away from the computer, you can log the offline time via the DeskTime mobile app, which is included in the free subscription.
You can set your working days and times and select when you want DeskTime to track your time. For example, if your work computer is also your personal computer, you can disable tracking in the evenings or weekends when you watch movies or do other personal stuff on the computer.
DeskTime Lite is ideal for time tracking beginners who want a glimpse into their productivity habits but don't want to put any effort into it. Another great thing about DeskTime is that scaling is always an option in case your team grows or new time-tracking needs arise. And DeskTime's paid plans are relatively more affordable than many other solutions on the market.
Features:
Automatic time tracking
App and program tracking
Mobile app
Pros: No need to remember to start tracking your time – the app is automatic and always works in the background.
Cons: DeskTime Lite is free for one user only.
2. My Hours
My Hours is a project-based time tracking app that lets you set billable rates & budgets for each project or task at hand. Signing up for My Hours is rather straightforward – you will need to confirm a link in your email and then answer one or two questions about your work. Similarly, downloading the My Hours mobile app is a matter of seconds.
The My Hours dashboard consists of logs for every time you started and stopped the timer. The app's features are especially handy for freelancers who want to know exactly how much time they've spent on each task to be able to report to their clients. If your work is interrupted, e.g., by a phone call, you can simply press "Pause" and resume time tracking after the call.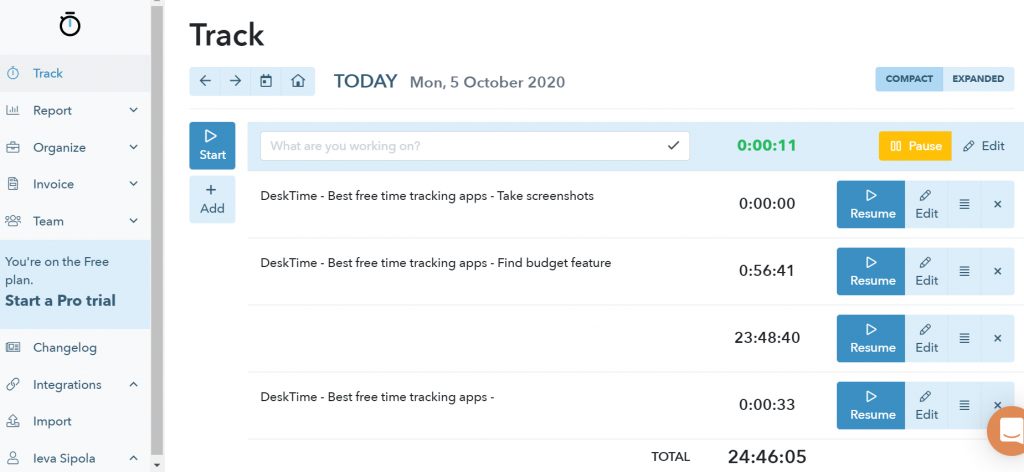 Unlike DeskTime, My Hours is focused on billable hours instead of productive hours. So, if you want to boost your productivity or find out where your time has gone, you'll need to pair it with another app – or choose different software altogether.
Features:
Unlimited team members & projects
Track time on projects & tasks
Set billable rates & budgets
Pros: Great for organizing your tracked time between different projects and tasks, and setting budgets for each task.
Cons: The app's user interface may require some getting used to. Time tracking is not automatic therefore prone to human error.
3. Pomofocus
Looking for the simplest productivity timer? It doesn't get any more straightforward than a timer with a pre-set interval of 25 minutes, inspired by the famous Pomodoro Technique.
For example, Pomofocus.io features a neat and clear design that won't make you lose even a second looking for something. Simply press the "Start" button and when the 25 minutes interval ends choose a short or a long break.
Pomofocus works on desktop and mobile without having to download an app. Its Premium Plan offers extra features like projects, yearly reports, and custom notifications.
What's cool about this timer – it has some useful but pleasantly simple features like adding tasks, projects, notes, and estimated Pomodoro intervals for each task. You don't even need to log in to access these basic tools. However, you will need to register if you want to see your reports.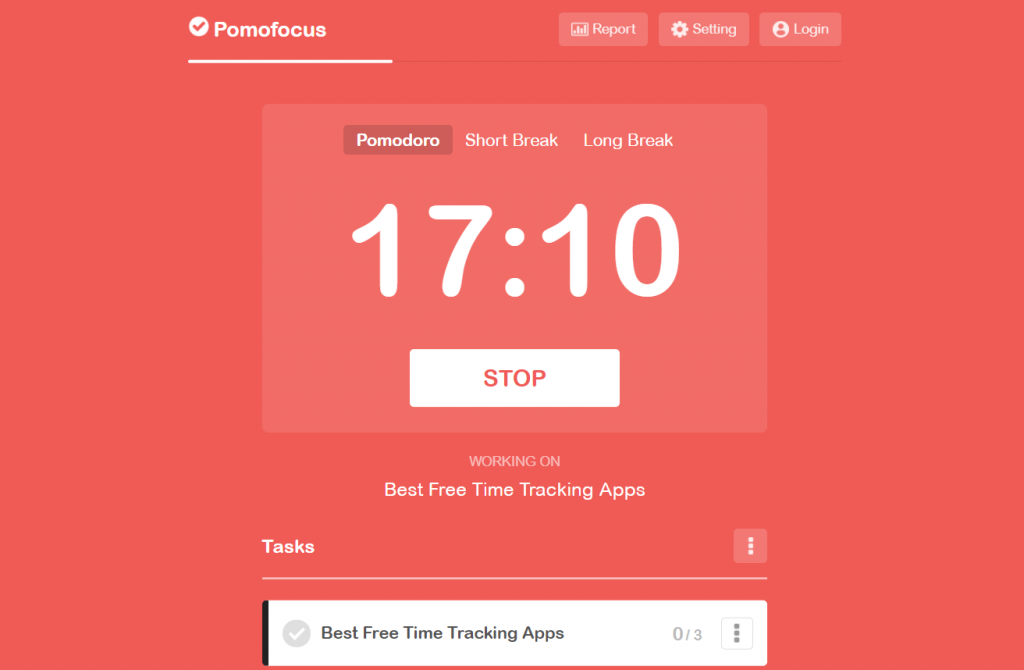 You can choose your favorite color for the timer and alter the interval lengths in the settings. We suggest you set it on 52:17 work-break intervals, as a famous DeskTime study found it to be the most productive working pattern.
Psst! The DeskTime Pro plan has a built-in Pomodoro timer as well.
Features:
Color transition to switch moods between working and resting time
Audio notification at the end of a timer period
Responsive design that works on desktop and mobile
Pros: A good balance between simplicity and useful features.
Cons: To track your time, you need to keep the site always open on your browser or mobile.
4. Clockify
The free version of Clockify gives you useful features like project tracking, unlimited reports, and email and chat support. You can easily create your own labels and projects and start tracking time for them. In addition, you can tag any recorded time as billable or not billable and use different colors to differentiate entries.
Registration is swift (one click if you sign up through your Google account) and you don't need to download anything in order to use the Clockify time tracker. However, you can choose to download the browser extension (Chrome or Firefox) for even more convenient time tracking. A mobile app is also available.
Clockify is great for dynamic professionals who are juggling different tasks simultaneously because it's very easy to switch from one project to another. Clockify's optional upgrades include more advanced features like branded reports, targets and reminders, custom subdomain, and others.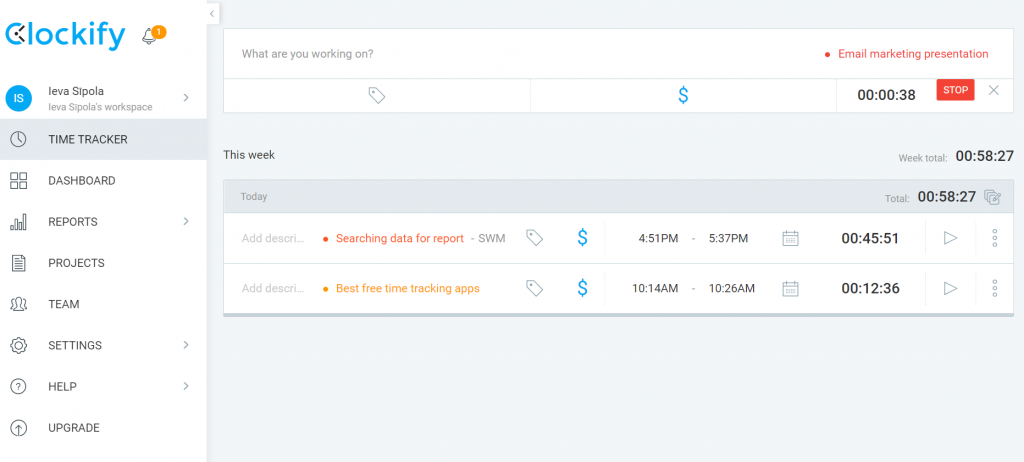 Features:
Unlimited reports
Apps and integrations
Email and chat support
Pros: Free for an unlimited number of users.
Cons: Some people don't enjoy the app's user interface and have reported bugs (especially on the mobile app). Forgetting to start or stop the timer may lead to mistakes in your time tracking reports.
5. Toggl
The Toggl time tracking app offers a free version for up to five team members. The app runs in the browser or as a browser extension. Toggl also offers a versatile mobile app with a beautiful design. However, this is no longer the most basic and straightforward kind of time tracking but offers more features that might need some exploring.
Signing up for Toggl is very simple, especially if you register via your Google account. As you download the mobile app, your account is already synced and you can see all your current projects in the dashboard.
The tracking dashboard doesn't seem immediately intuitive but once you get to know the ropes, it's easy to set up projects and analyze reports.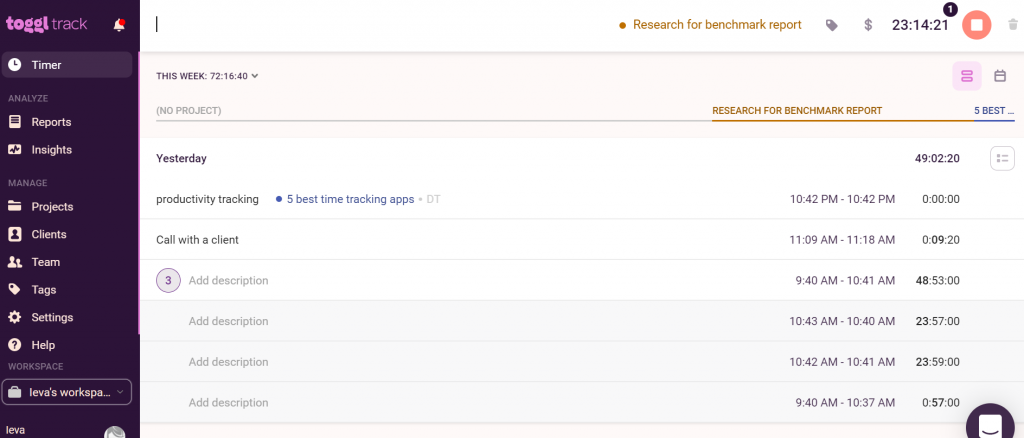 Besides all the core time-tracking features, Toggl's free plan offers idle detection, the ability to work offline and edit time tracked, weekly reports, and the option to create as many projects and clients as you need.
As a free account member, you won't be able to collaborate with other team members and you'll have minimal access to reporting tools. But besides that, Toggl is a compact and reliable time tracking solution for freelancers and small teams.
Features:
Idle Detection
Pomodoro Timer
Imports & Exports
Pros: A very simple and handy timer feature – start timing now and name the client and project later.
Cons: Relatively pricey subscription to access all features.
What's a good balance between simplicity and core time tracking features?
If you are looking for a simple free time clocking app that does its job well without having to explore complex features, go for one of the straightforward, but efficient solutions mentioned above.
To make the right choice, ask yourself – do you want to have the bare-bones functionality like pressing the "Start" button on a timer? Or do you want to be able to set up projects and costs and cooperate with your colleagues inside the time management software?
If you are not yet sure, the smartest tactic is to pick a tool that gives you the basics straight away but also offers an option to upgrade later if your team grows or if your needs diversify. DeskTime is a great option for scaling – start today for free and decide if you need a more versatile tool later!
FYI – the DeskTime Lite plan is free forever, for up to one user – sign up here.
Alternatively, you can try the DeskTime Pro plan – it's free for 14 days and you don't need to add your credit card. If you do not want to upgrade afterward, you can go to your settings and set up the Lite plan instead.